The newest technology for LS engine builds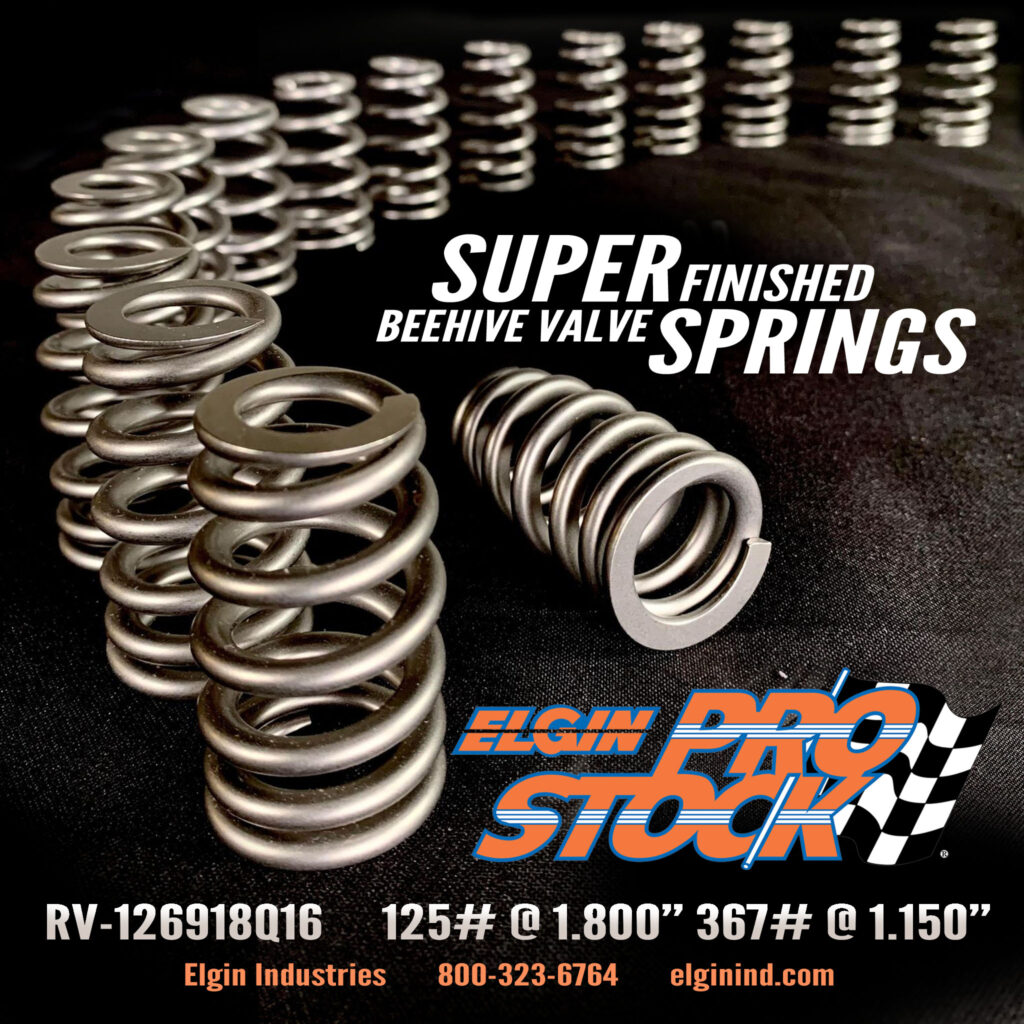 Performance Valvetrain
New Elgin ProStock valve springs for the LS Engine. When you upgrade the cam, you need to upgrade valve springs to match. The original stock springs will only handle low lift stock cams.
LSX crate engine cams and the Sloppy Mechanics Stage 2 cam need higher spring pressures for higher valve lift and improved cam lobe ramp profile.
These new beehive LS engine valve springs are rated at 125 pounds of pressure at 1.800″ on the valve seat or installed height. When the valve is open, the spring is compressed to 1.150″, and the pressure is at 367 pounds of pressure.
---
Beehive Valve Springs
Traditional valve springs often include an inner damper to help stabilize their oscillation. Beehive springs do not need a damper because their tapered shape gives them natural stability.
The geometry of a beehive valve spring reduces the dynamic surges by improving valve train harmonics.
Beehive and conical shaped valve springs are more complex to manufacture, so most production engines for common vehicles and applications use a traditional straight side spring.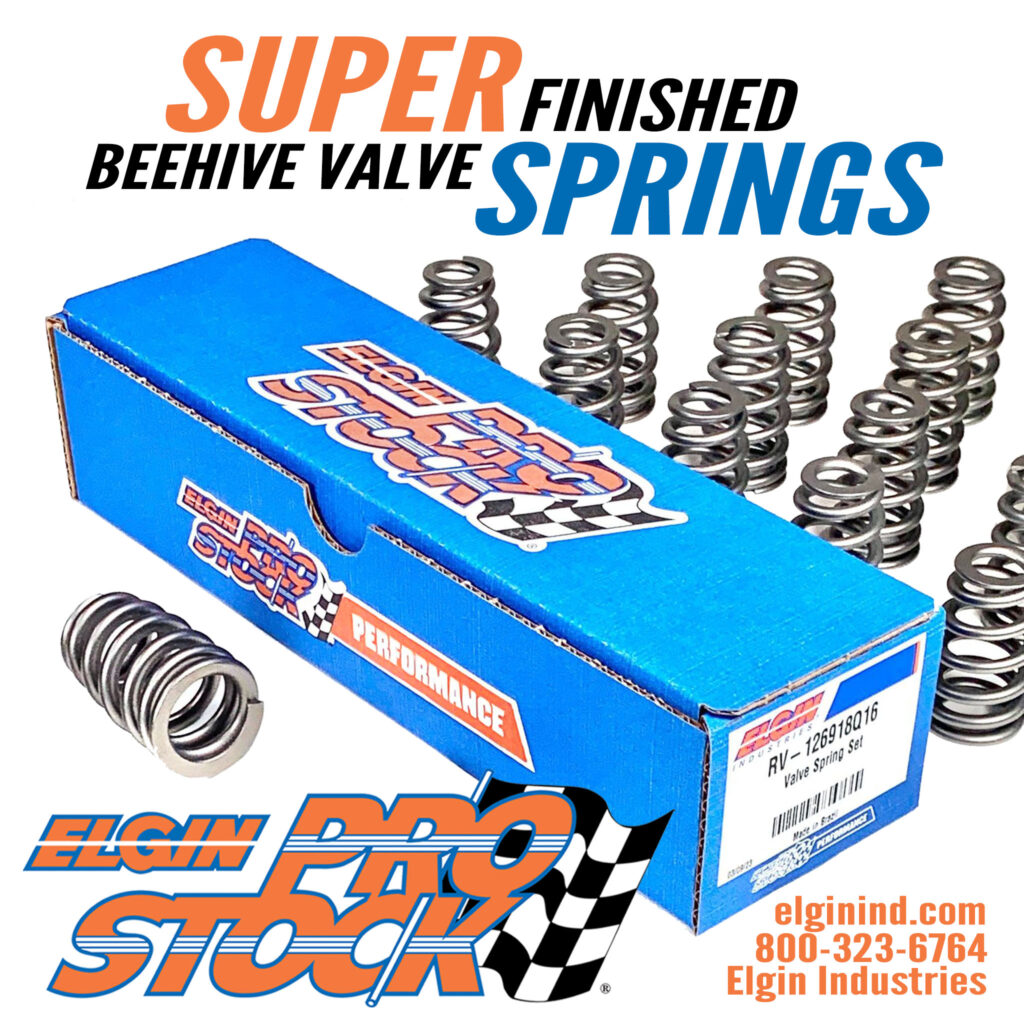 ---
Finish your Race Build : SUPER-Finish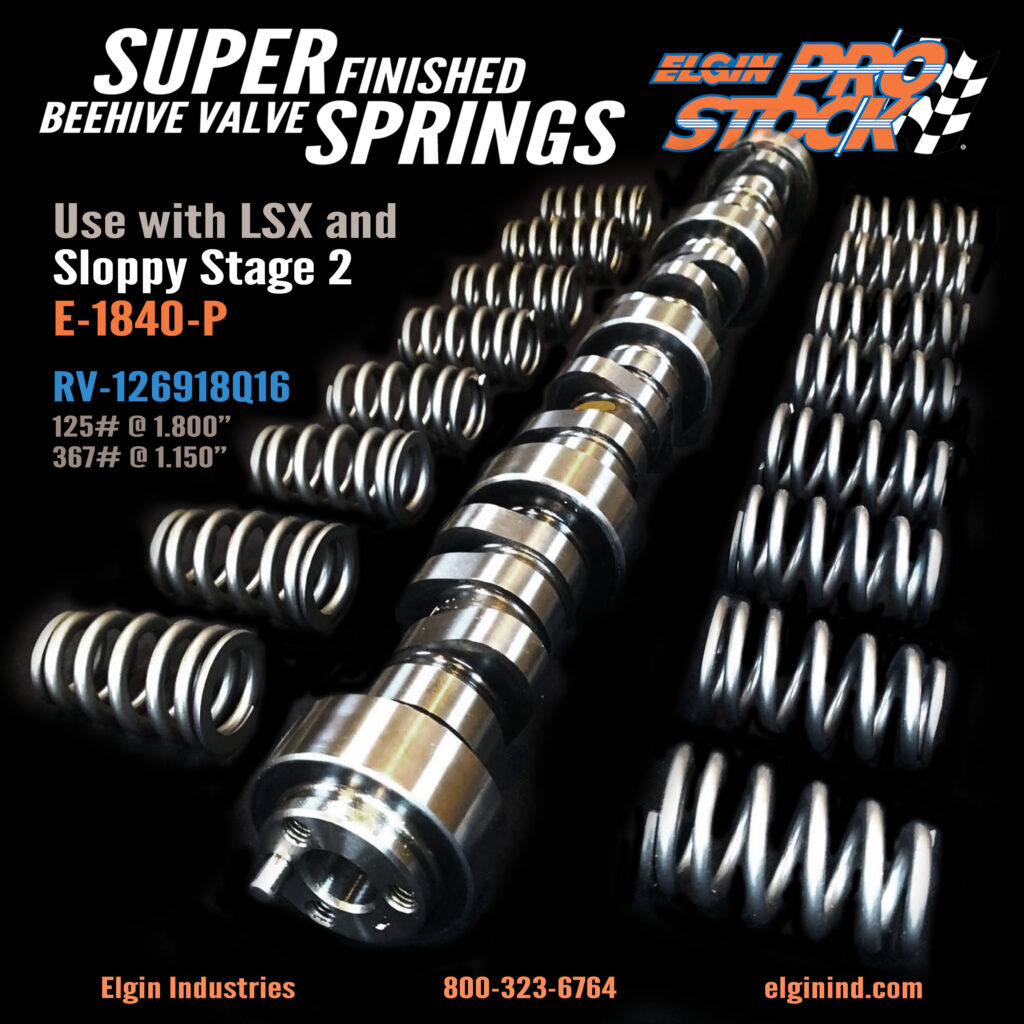 Super-finished Valve Springs
Most of the mass-produced valve springs have imperfections in their surface, which is tolerable inside stock vehicles at low pressure and RPM's.
For higher pressures and RPM's, the surface finish needs to be micro-engineered, with a multilayer fatigue enhancement. This both eliminates potential surface defects as well as prolongs spring life.
Our proprietary heat treat process gives these springs improved strength and optimized residual stress for performance valve spring applications.
---
Camshaft and Valve Springs
Valve spring engineering has improved since the introduction of the E-1840-P Sloppy Stage 2 camshaft. The preferred spring has changed a couple times to match the capabilities of the cam.
While the SS2 or even LSX cam adds 60 horsepower to a stock engine, builders are proving these cams are capable of over 1,000 hp with the right add-ons.
The new Elgin RV-126918 valve springs are ready to handle those high-power high-RPM LS engine builds. Mate them with the Elgin one-piece thick-wall pushrod for maximum valve train stability.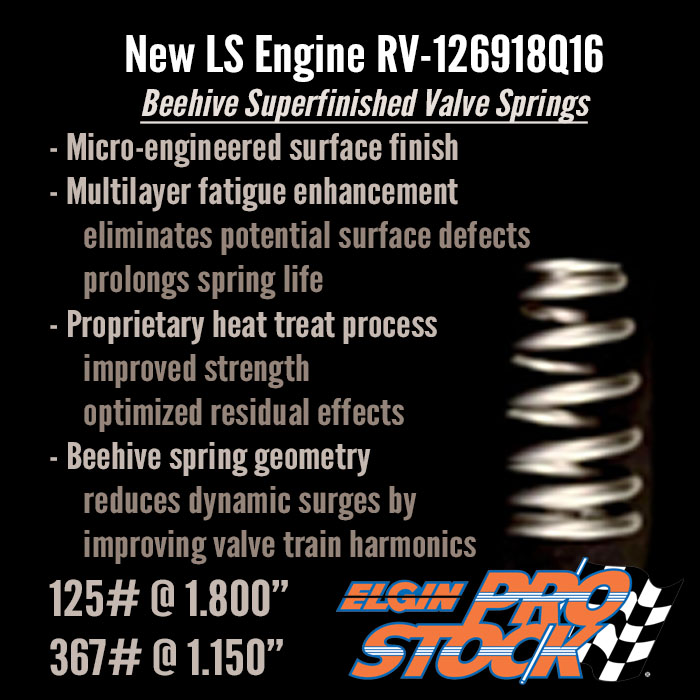 ---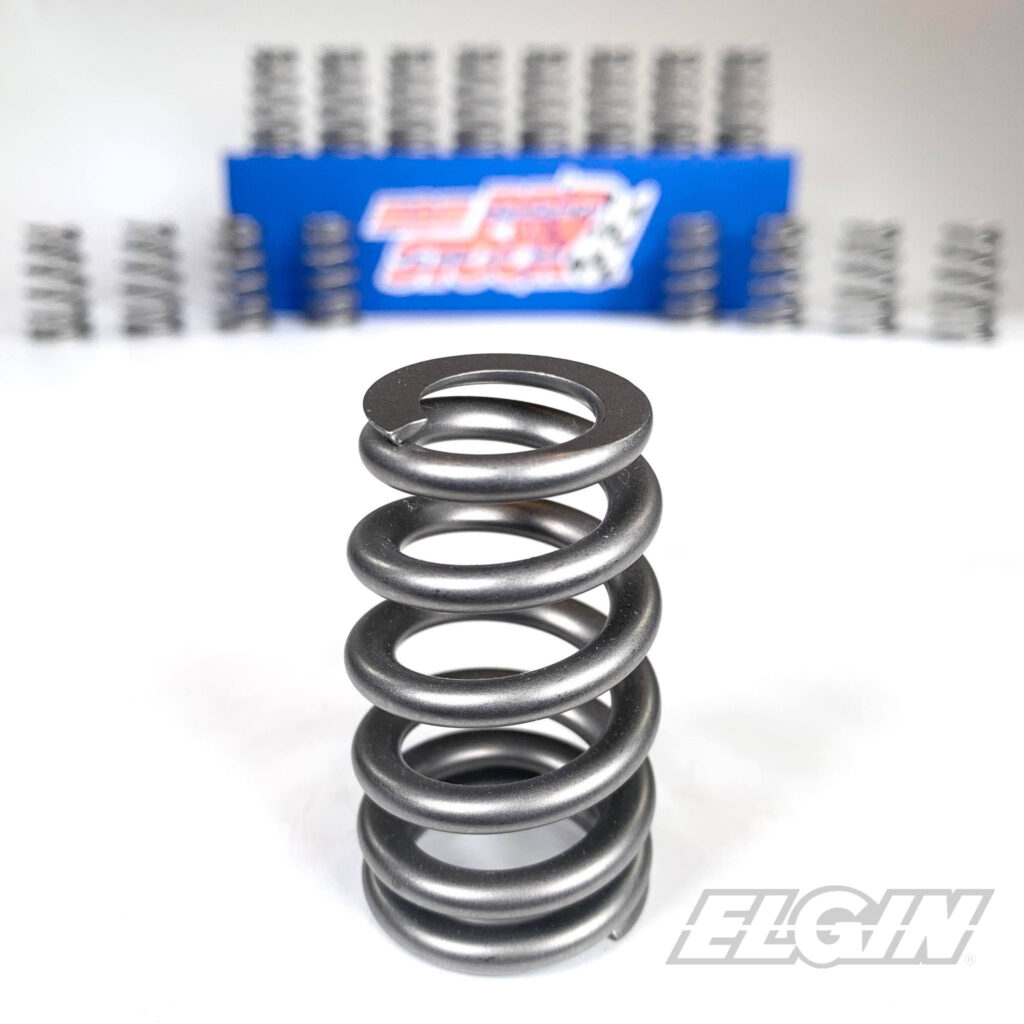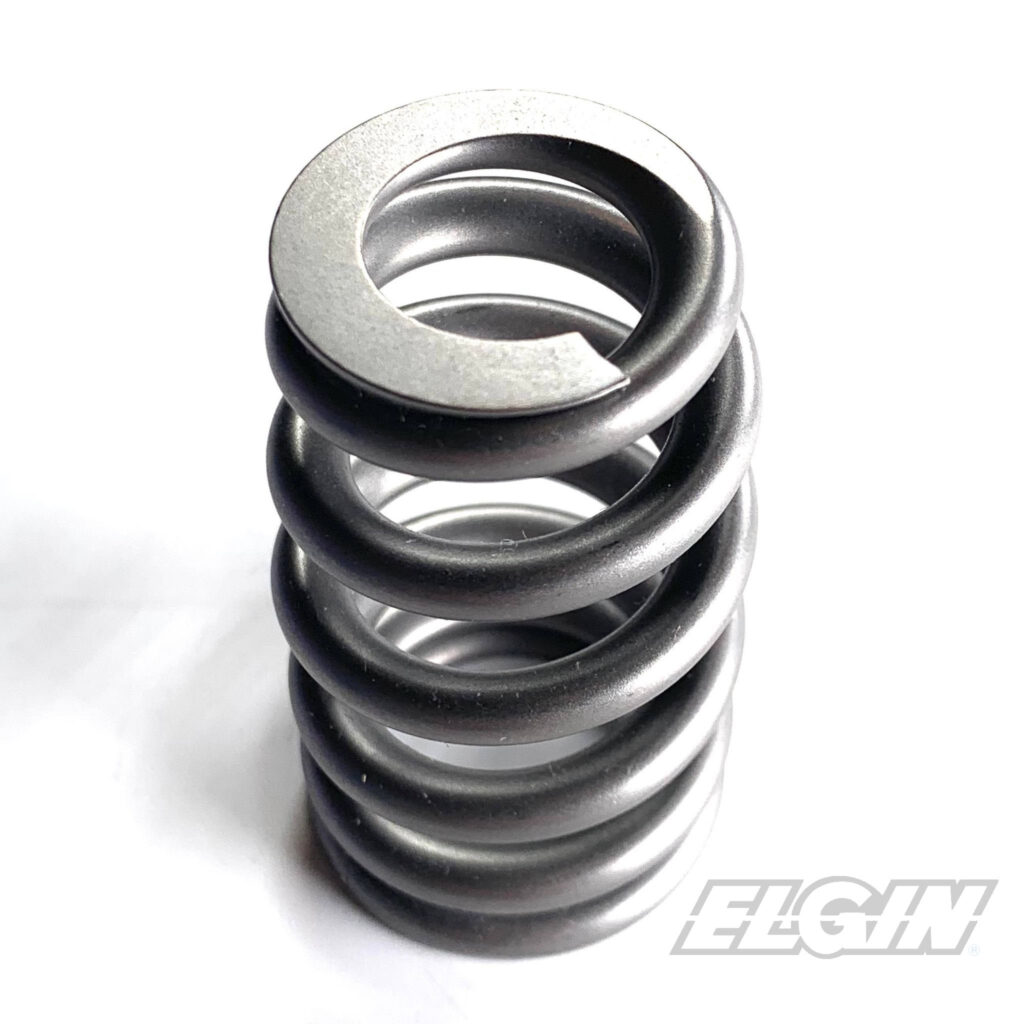 New Elgin valve springs press release:
Elgin Industries Unveils New Line of Elgin PRO-STOCK® Performance Valve Springs for GM LS Based Engines
Elgin, IL…Elgin Industries, a leading U.S.-based manufacturer of engine and chassis components for automotive, performance, commercial vehicle and other applications, has launched a broad new line of Elgin PRO-STOCK® performance valve springs engineered specifically for General Motors LS based engines. The new valve springs are optimized for use with Elgin PRO-STOCK performance camshafts, including the company's legendary Sloppy Stage 2 hydraulic roller lift cam. The new PRO-STOCK valve springs include an array of advanced features designed to ensure superior durability and valvetrain performance, including:
• Micro-engineered surface finish for maximum durability
• Multilayer fatigue enhancement, eliminating potential surface defects and prolonging spring life
• Proprietary heat-treat process for added strength and optimized residual stress
• Beehive and conical spring geometries, reducing dynamic surges for exceptional valvetrain harmonics
"Elgin PRO-STOCK has become performance engine builders' go-to source for leading-edge valvetrain technologies for LS engines," said Rick Simko, Elgin Industries National Sales and Marketing Manager. "This new line was developed in response to overwhelming demand for top-quality, street- and strip-proven performance springs manufactured by a trusted, US-based supplier."
The new PRO-STOCK valve springs range includes:
Elgin # OD  ID  Closed      Open        Bind    Rate

   RV-100911Q16   1.524   1.110     122@1.900         310@1.400          1.200     373
   RV-100926Q16   1.476   1.062     110@1.800         320@1.300          1.140     415
   RV-100942Q16   1.437   1.027     113@1.700         285@1.200          1.125     339
   RV-100981Q16   1.254   0.880     103@1.700         275@1.250          1.150     373
   RV-126918Q16   1.130   0.885     127@1.800         370@1.150          1.100     372
                               1.185   0.731
To learn more about these and other industry-leading Elgin PRO-STOCK performance engine parts, please visit https://www.elginind.com/performance/.
About Elgin Industries
Elgin Industries is a Tier One supplier of original equipment engine and chassis components to organizations such as Fiat Chrysler, Deere & Company, Ford, General Motors, Harley-Davidson, Mack, and Navistar. Elgin has earned dozens of quality awards and received certificates of registration to the IATF16949:2016 Quality Management System and ISO 14001:2015 and ISO 9001:2015. It also has achieved Ford Q1 Quality Certification. To learn more about Elgin please call 1-800-323-6764, email sales@elginind.com and visit www.elginind.com.
---