Elgin Industries is committed to meeting your quality requirements. We continually improve our processes, capabilities and equipment to ensure world-class product performance and reliability. Our name is synonymous with cost-effective, high-quality components, developed by qualified and competent employees, and delivered in a timely manner.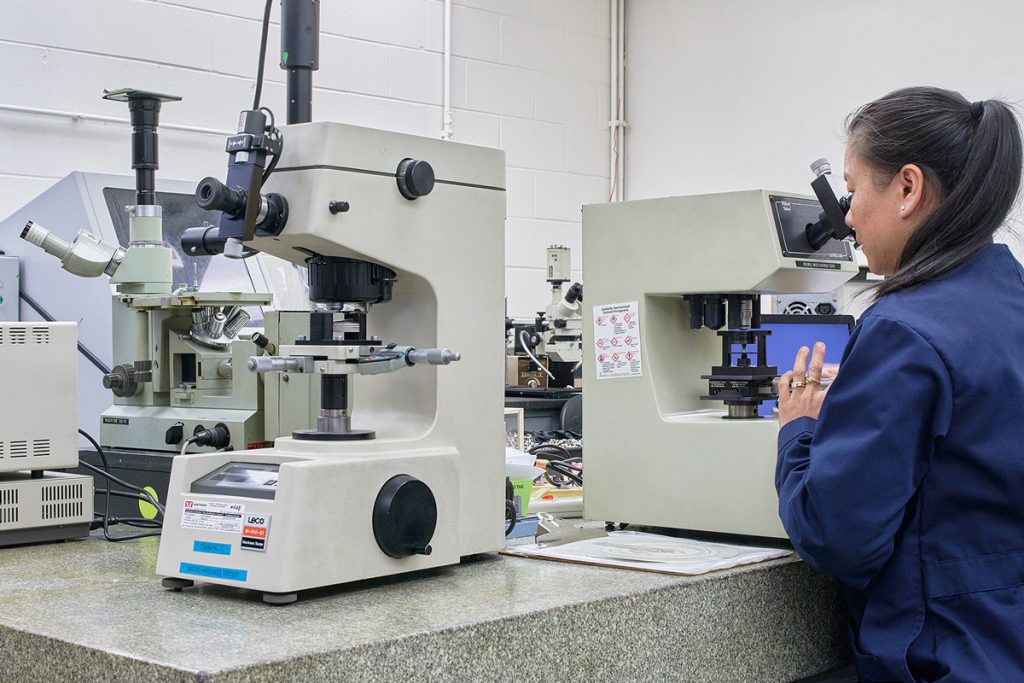 Certified to IATF16949 standards
SPC and Total Quality Management programs
Continuous cost reduction strategies
Comprehensive product traceability (paperless)
CAD design
Comprehensive in-house heat treat facilities
On-site metallurgy and metrology labs
Environmental Stewardship
Elgin Industries is dedicated to protecting the environment through continual improvement of our Environmental Management System (EMS), and is certified to ISO14001 standards. We comply with all environmental legislation, regulations and other requirements applicable to our business. Our EMS is periodically reviewed by top management to establish and review objectives.
Limited Lifetime Warranty
All components are warranted to be free from defects in workmanship and materials for as long as the purchaser owns the vehicle into which said merchandise is installed. This limited warranty applies to the first retail purchaser only and excludes normal wear. The warranty is void if the product is not installed correctly or normal recommended established precautions and installation procedures and testing are not followed.
Liability is limited to the repair or replacement of the defective part. The manufacturer retains sole discretion in determining whether merchandise is defective and assumes no responsibility for diagnosis, removal, and/or installation labor, inconvenience or any other damages or expenses. EXCEPT TO THE EXTENT APPLICABLE STATE LAW EXPRESSLY MANDATES TO THE CONTRARY, THERE ARE NO OTHER WARRANTIES OF MERCHANTABILITY, FITNESS FOR A PARTICULAR USE, AND ALL OTHER OBLIGATIONS OR LIABILITIES WHETHER FOR CONSEQUENTIAL OR OTHER DAMAGES (INCLUDING DAMAGES TO RELATED PARTS) ARISING OUT OF THE ITEM'S SALE, USE, OR OPERATION ARE EXCLUDED. Neither the vendor of the item, its agent or sales representative or any other person is authorized to waive or alter any form or condition of this warranty.
To request repair or replacement of a defective item, please return merchandise in its original carton to the selling dealer. A copy of the dealer's invoice must accompany the defective item.
Elgin Industries, Inc. Conflict Minerals Policy
Elgin Industries, Inc. is committed to ensuring that the products it sells do not incorporate conflict minerals (tin, tantalum, tungsten and gold) sourced from the Democratic Republic of the Congo or any adjoining country which finances armed conflict or inhumane treatment.
Elgin Industries intends to fully comply with the requirements of Section 1502 of the Dodd-Frank Act, which requires due diligence to be performed to determine the origin of such minerals, and disclose the results of such due diligence.
The following requirements must be met by Elgin Industries suppliers:
commit to being or becoming conflict free, so that any such metals are only sourced from conflict-free smelters;
perform due diligence into their respective supply chains to determine whether products sold to us contain tin, tantalum, tungsten or gold, and if so, are those metals sourced from conflict-free smelters;
suppliers shall report to Elgin Industries their due diligence results to enable Elgin Industries to comply with our policy goals.
Member Associations and Organizations
Automotive Engine Builders Association
Since 1922, the AERA continues to provide a technical resource and industry voice for internal combustion engine builders, remanufacturers, machine shops, OEMs, suppliers and service providers worldwide.
As the industry's oldest and most authoritative organization, the AERA developed PROSIS PRO Engine Specification Software, produces the quarterly Engine Professional magazine, sponsors Tech & Skills Regional Conferences, and offers industry scholarships and training.
Production Engine Remanufacturers Association
Dedicated to individuals and firms who are remanufacturing internal combustion engines and their major components, or are supplying necessary components, supplies and equipment required in the remanufacturing process.
This association provides its members with the opportunity to exchange the ideas, methods and procedures necessary to efficiently produce remanufactured products which are equal or superior to original products in quality and performance.
Auto Care Association
The auto care industry keeps vehicles moving and the Auto Care Association is dedicated to helping every one of those vehicles last longer, perform better, and keep drivers safe.
Our global member companies manufacture, distribute, and sell every single part and component, and perform service, maintenance, and repairs on every class of vehicle on the road.
Our mission is to protect and advance the interests of businesses providing aftermarket products and services for all classes of motor vehicles.
Motor & Equipment Manufacturers Association
MEMA is the trade association for motor vehicle and mobility suppliers and parts manufacturers and remanufacturers.  
Our members supply both the original equipment and aftermarket segments of the light vehicle (car and truck) and commercial vehicle (on- and off-road) industries. 
MEMA serves the industry as the voice of the motor vehicle and mobility supplier industry, speaking out on behalf of the largest manufacturing sector in the United States.
Automotive Aftermarket Suppliers Association
The Automotive Aftermarket Suppliers Association (AASA) exclusively represents the North American Aftermarket supplier industry.
AASA is recognized as one of the nation's strongest and most prominent trade organizations with more than 100 years of experience, AASA's sole mission is to help members, the aftermarket suppliers, to be more profitable, innovative and competitive on a global scale.
The AASA is a division of MEMA.
Overseas Automotive Council
Since 1923 OAC has strived to be the premier international community for all North American manufacturers and exporters, and all international importers, distributors and agents who participate in the aftermarket.
It provides a forum for members to share ideas, address common concerns and solve mutual problems.
The OAC is a Council within the AASA.