Elgin Industries is committed to meeting your quality requirements. We continually improve our processes, capabilities and equipment to ensure world-class product performance and reliability. Our name is synonymous with cost-effective, high-quality components, developed by qualified and competent employees, and delivered in a timely manner.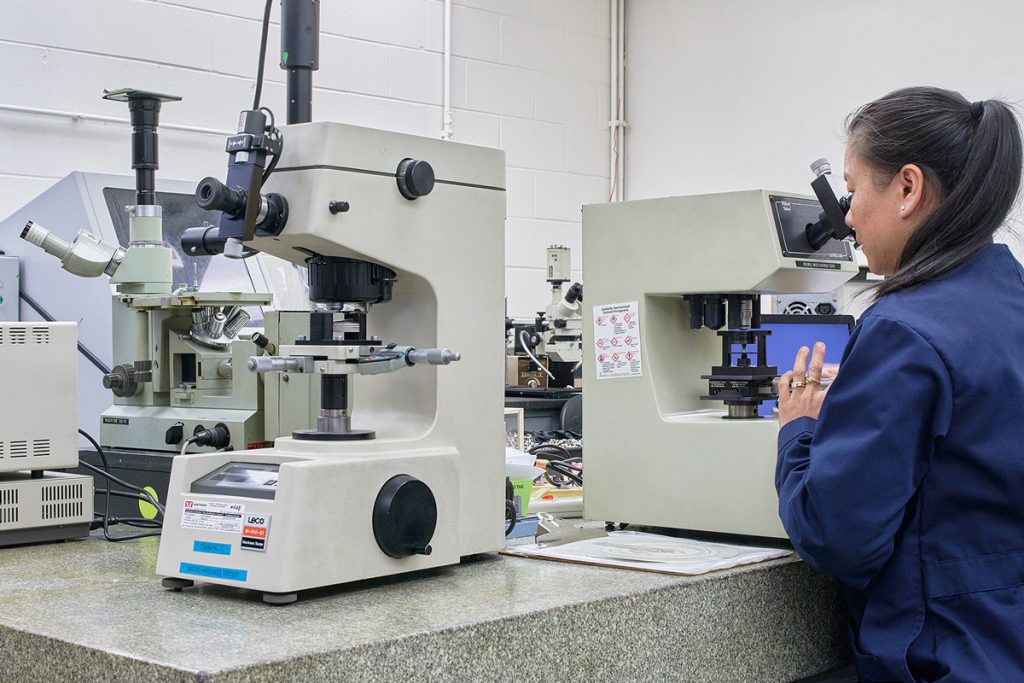 Certified to IATF16949 standards
SPC and Total Quality Management programs
Continuous cost reduction strategies
Comprehensive product traceability (paperless)
CAD design
Comprehensive in-house heat treat facilities
On-site metallurgy and metrology labs
Environmental Stewardship
Elgin Industries is dedicated to protecting the environment through continual improvement of our Environmental Management System (EMS), and is certified to ISO14001 standards. We comply with all environmental legislation, regulations and other requirements applicable to our business. Our EMS is periodically reviewed by top management to establish and review objectives.
Limited Lifetime Warranty
All components are warranted to be free from defects in workmanship and materials for as long as the purchaser owns the vehicle into which said merchandise is installed. This limited warranty applies to the first retail purchaser only and excludes normal wear. The warranty is void if the product is not installed correctly or normal recommended established precautions and installation procedures and testing are not followed.
Liability is limited to the repair or replacement of the defective part. The manufacturer retains sole discretion in determining whether merchandise is defective and assumes no responsibility for diagnosis, removal, and/or installation labor, inconvenience or any other damages or expenses. EXCEPT TO THE EXTENT APPLICABLE STATE LAW EXPRESSLY MANDATES TO THE CONTRARY, THERE ARE NO OTHER WARRANTIES OF MERCHANTABILITY, FITNESS FOR A PARTICULAR USE, AND ALL OTHER OBLIGATIONS OR LIABILITIES WHETHER FOR CONSEQUENTIAL OR OTHER DAMAGES (INCLUDING DAMAGES TO RELATED PARTS) ARISING OUT OF THE ITEM'S SALE, USE, OR OPERATION ARE EXCLUDED. Neither the vendor of the item, its agent or sales representative or any other person is authorized to waive or alter any form or condition of this warranty.
To request repair or replacement of a defective item, please return merchandise in its original carton to the selling dealer. A copy of the dealer's invoice must accompany the defective item.
Elgin Industries, Inc. Conflict Minerals Policy
Elgin Industries, Inc. is committed to ensuring that the products it sells do not incorporate conflict minerals (tin, tantalum, tungsten and gold) sourced from the Democratic Republic of the Congo or any adjoining country which finances armed conflict or inhumane treatment.
Elgin Industries intends to fully comply with the requirements of Section 1502 of the Dodd-Frank Act, which requires due diligence to be performed to determine the origin of such minerals, and disclose the results of such due diligence.
The following requirements must be met by Elgin Industries suppliers:
commit to being or becoming conflict free, so that any such metals are only sourced from conflict-free smelters;
perform due diligence into their respective supply chains to determine whether products sold to us contain tin, tantalum, tungsten or gold, and if so, are those metals sourced from conflict-free smelters;
suppliers shall report to Elgin Industries their due diligence results to enable Elgin Industries to comply with our policy goals.