Elgin, IL…Elgin Industries, a leading U.S.-based manufacturer of original equipment and replacement engine and chassis components, has introduced 21 new Elgin PRO-STOCK one-piece performance push rods featuring 0.106-inch-thick walls for dramatically enhanced column strength and increased stiffness. The new thick-wall push rods are produced in the company's state-of-the-art engineering and manufacturing facility in Elgin, IL.

Thick wall push rods
The 21 new parts feature 5/16-inch diameter and range in length from 6.300 to 8.950 inches. The company also offers a full complement of 3/8-inch-diameter one-piece push rods featuring 0.137-inch-thick walls and available in lengths from 7.900 to 9.400 inches.
One piece push rods
PRO-STOCK one-piece push rods are manufactured from seamless, aircraft-quality chrome-moly material, then through-hardened and black oxide coated for superior strength and durability. Each part features a centerless ground and hard-turned radius ends for the ultimate in geometric precision and wear resistance.
"As one of the world's largest manufacturers of push rods, we are continually enhancing our designs, materials and manufacturing processes to help end users maximize engine horsepower and reliability," said Rick Simko, director, sales and marketing, Elgin Industries. "These new one-piece push rods represent a new benchmark in product quality for the performance market."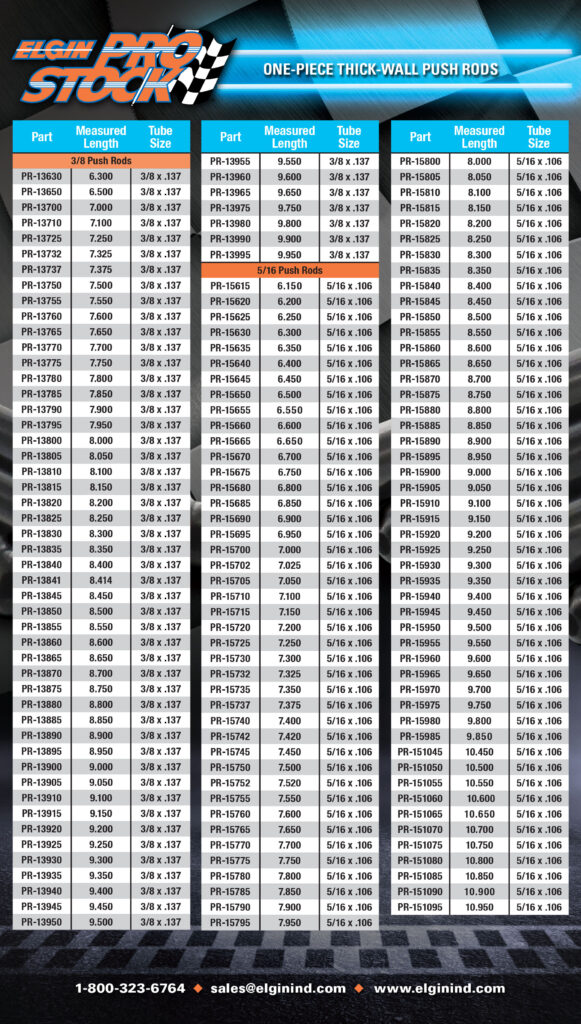 Push Rods made in USA
Elgin Industries is a Tier One supplier of OE engine and chassis components to organizations such as Chrysler, Deere & Company, Ford, General Motors, Harley-Davidson, Mack, and Navistar. The company also is a leading all-makes/all-models supplier of replacement automotive and heavy-duty parts.
Elgin has earned dozens of quality awards and has received its certificates of registration to the ISO/TS 16949:2009 Quality Management System and ISO 14001:2004 Environmental Management System. It has received its Ford Q1 Quality Certification.