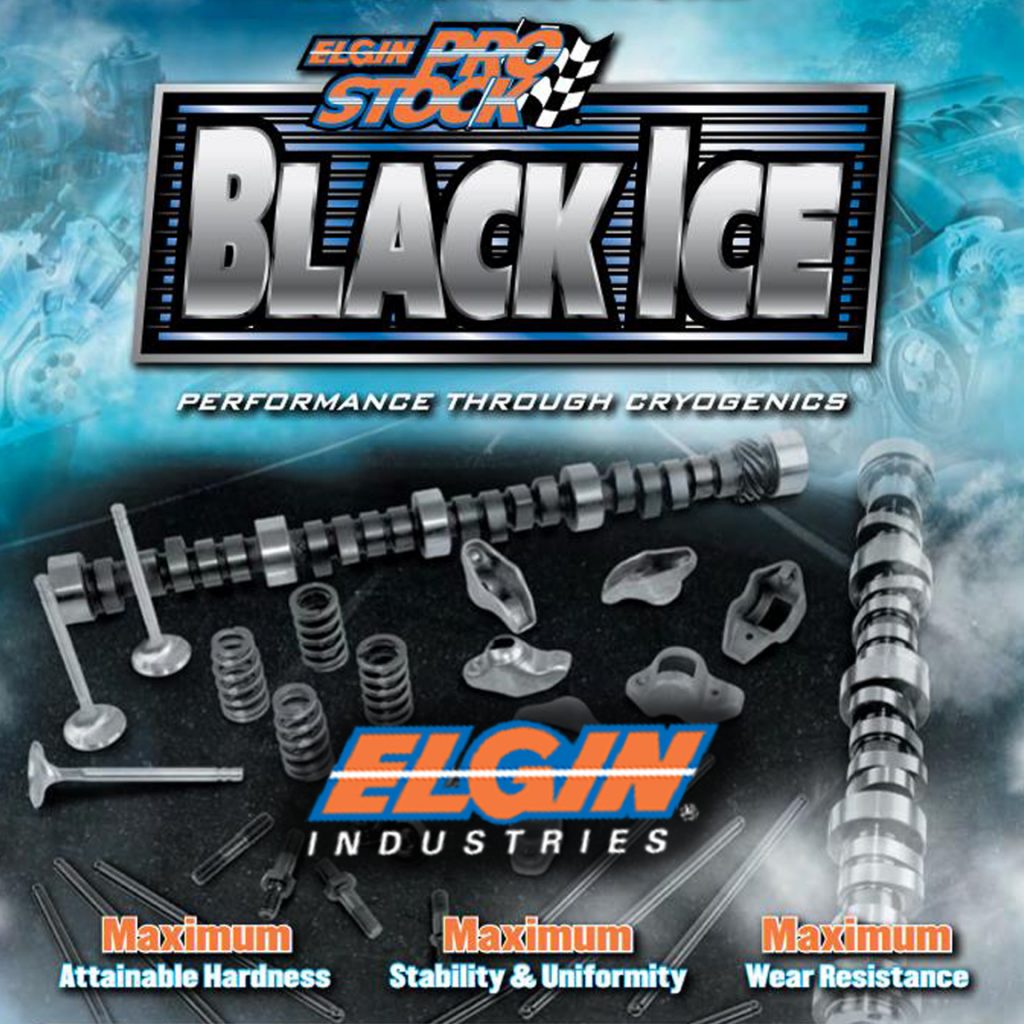 ELGIN, IL, Nov. 29, 2021…The 2022 Elgin PRO-STOCK® performance catalog, featuring hundreds of power-adding parts for GM LS Series engines and other popular performance applications, is now available from Elgin Industries. The catalog also highlights the company's growing range of BLACK ICE™ super-cryogenically treated and tempered parts for a wide range of high-output engines.
Elgin PRO-STOCK is one of the performance industry's most popular brands of precision-engineered, USA-quality components. The PRO-STOCK range includes thousands of valvetrain parts, timing components and sets, camshafts, oil pumps, chassis parts and other products engineered specifically for racing, street performance, marine, RV and other operating environments.
Elgin continues to expand its coverage of GM LS Gen III, IV and V engines, with available parts including camshafts, lifters, pushrods, rocker arms, head bolts, connecting rod bolts, main bearing cap bolts, oil pumps, timing chain sets, top-end kits, valves, valve springs, valve spring retainers, and more. All of these parts are available through leading distributors across North America.
Elgin also is the first major performance parts manufacturer to integrate advanced cryogenic technology into its U.S.-based production operations. By applying a precisely controlled combination of super-cryogenic and tempering treatments, the company has achieved several track-proven performance advantages: maximum attainable hardness; unsurpassed geometric stability and uniformity; and the virtual elimination of material stresses and mass changes.
BLACK ICE parts include camshafts, pushrods, rocker arm kits and studs, valves, valve springs, and valve spring retainers for the following engines: GM LS; GM small block and big block; Chrysler small block, Ford small block; and Pontiac.
The new Elgin PRO-STOCK catalog is available both online, at  https://www.elginind.com/prostock-catalog, and in print. To request a print catalog, contact your Elgin PRO-STOCK distributor, call 800-323-6764 or write to sales@elginind.com.
About Elgin Industries
Founded in 1919, Elgin is one of the world's premier suppliers of push rods, piston pins, king pins, rocker arms, timing components, suspension parts and other products. Its Elgin PRO-STOCK® brand is a leading player in the street performance and racing markets. The company's Elgin World Trade division exports engine, chassis and other parts to customers throughout Central and South America, the Middle East and other regions. To learn more about Elgin please call 1-800-323-6764, email sales@elginind.com and visit www.elginind.com.