Building the Road into the Future: Exploring Global Markets
the AASA Global Summit is the best way to strategize with international customers and discuss global business challenges and opportunities. Thought leaders from around the globe will share perspectives as they look to what's next with supply chain, inflation and exchange rates, and pandemic disruption. Don't miss the opportunity to celebrate the OAC 100th year anniversary. February 2-3, 2023.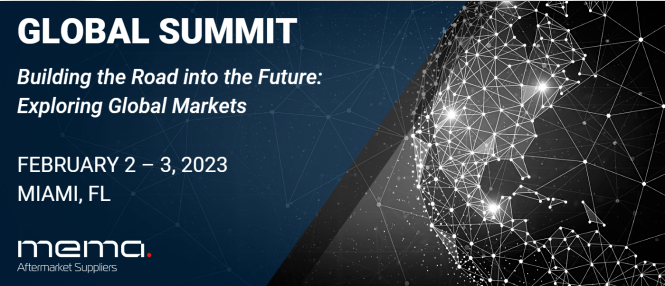 Motor & Equipment Manufacturers Association
MEMA is the trade association for motor vehicle and mobility suppliers and parts manufacturers and remanufacturers.
Our members supply both the original equipment and aftermarket segments of the light vehicle (car and truck) and commercial vehicle (on- and off-road) industries.
MEMA serves the industry as the voice of the motor vehicle and mobility supplier industry, speaking out on behalf of the largest manufacturing sector in the United States.
Automotive Aftermarket Suppliers Association
The Automotive Aftermarket Suppliers Association (AASA) exclusively represents the North American Aftermarket supplier industry.
AASA is recognized as one of the nation's strongest and most prominent trade organizations with more than 100 years of experience, AASA's sole mission is to help members, the aftermarket suppliers, to be more profitable, innovative and competitive on a global scale.
The AASA is a division of MEMA.
Overseas Automotive Council
Since 1923 OAC has strived to be the premier international community for all North American manufacturers and exporters, and all international importers, distributors and agents who participate in the aftermarket.
It provides a forum for members to share ideas, address common concerns and solve mutual problems.
The OAC is a Council within the AASA.